Worship Services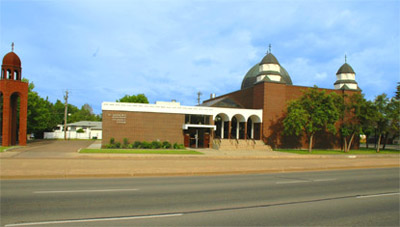 We worship every Sunday.
Confessions: 9:00 a.m.
Matins: 9:30 a.m.
Divine Liturgy: 10:00 a.m.
Religious Ceremonies
Arrangements for Holy Sacraments such as Baptism, Christmation, and Marriage and for services such as funerals, special prayers, and visitations, please contact the Parish Priest. The two Holy Sacraments of Confession and Communion are served at every Sunday Divine Liturgy.
St. Stephen's Cemetery
St. Stephen's Cemetery is the newest cemetery established in 2000 and is located at 20303 – Meridian Street NE, Edmonton. The Cemetery is owned and operated by the Council of Ukrainian Orthodox Churches of Edmonton (Five Ukrainian Orthodox Parishes in Edmonton). St. Stephen's Cemetery is a public cemetery serving families of different faiths and cultures. The Garden of Tranquility welcomes peoples from all faiths and traditions. This section of the cemetery includes cremation spaces and columbarium niches as well as traditional full size burial spaces. The Nature Trail provides families with a non-traditional option of placing cremated remains in a natural forest setting, with boulders instead of traditional monuments marking the space. The Garden of Resurrection serves members of the Orthodox Church and their families.
St. Stephen's Cemetery offers a wide selection of traditional full size burial spaces, cremation burial spaces, and cremation columbaria for above ground cremation interment. Families have a choice of selecting an upright monument or a flat lawn level marker. For more information, please visit www.ststephenscemetery.ca.