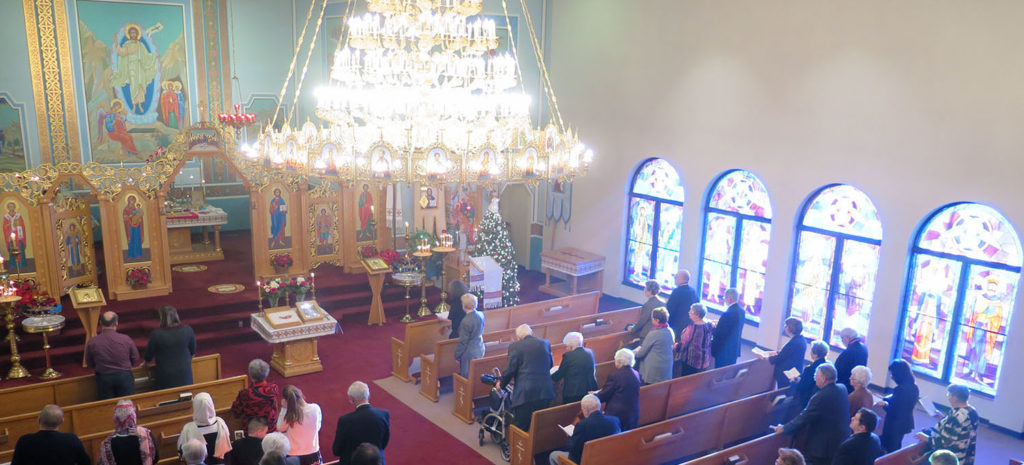 St. Andrew's Parish
St. Andrew's Ukrainian Orthodox Sobor Parish is one of the five Ukrainian Orthodox churches in Edmonton, all of which belong to the Ukrainian Orthodox Church of Canada (UOCC). Through an agreement (1990) between the UOCC and the Ecumenical Patriarchate of Constantinople, the UOCC is in Canonical and Eucharistic Communion with the Mother Orthodox Church of Constantinople. Being One, Holy, Universal (Catholic) and Apostolic Orthodox Church, St. Andrew's is a Christ- and Gospel- Centered Parish that practices the "true faith" of teachings and blessings handed down by Holy Tradition and Scriptures over the past centuries. Our Patron Saint is St. Andrew, the First-Called Apostle, Founder of the Ukrainian Orthodox Church. We honour the memory of St. Andrew on December 13.
Our Vision
Our vision is to foster spiritual growth and worship and to embody the Trinitarian way of being – God the Father, God the Son, and God the Spirit.
Our Mission
Our mission is to provide a welcoming environment for worship, fellowship, and spiritual growth for Orthodox Christians, primarily of Ukrainian descent although not to the exclusion of anyone who wishes to become an adherent of the "true faith" and to bring all to a deeper communion with God.
Our Values
We value building a strong Eucharistic community, one that leads a sacramental life and is compassionate, charitable, welcoming, inclusive, respectful, and humble. We value and cherish the legacy of our parents, grandparents, and ancestors and we are committed to the preservation of our cultural heritage in the Canadian context.
Religious Ceremonies
Arrangements for Holy Sacraments such as Baptism, Christmation, and Marriage and for services such as funerals, special prayers, and visitations, please contact the Parish Priest. The two Holy Sacraments of Confession and Communion are served during Divine Liturgy on Sundays. Because of the COVID-19 pandemic, please contact the parish priest regarding special arrangements necessary for Holy Confession.